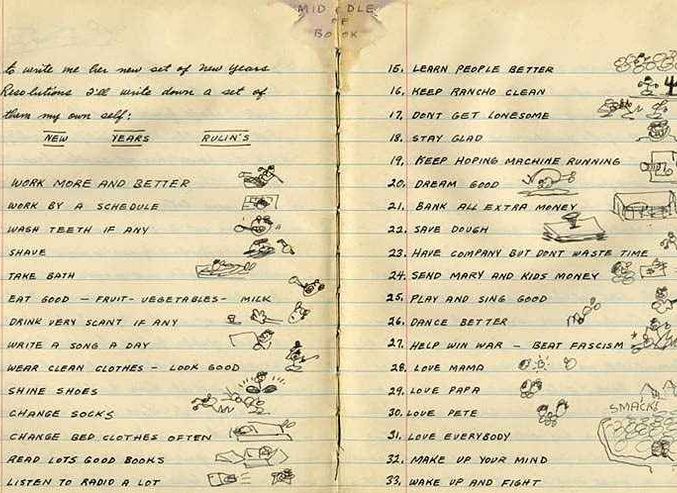 Happy New Year to You. I hope and pray that this year brings great good things to you and yours, and lots of love and good cheer throughout.

Here, as we're in the midst of several Woody Guthrie tributes and studies and I'm in the process of learning a handful of new Woody songs, myself, I thought I'd post this wonderful photo of Woody's resolutions from 1942.

My ex used to joke about how many Woody tributes there are, but hey-- there's a reason for that. His songs are still relevant and his spirit, and his family, and the festival in his name, are all living on and on and there's an extended family created by this man and these songs of his that is remarkable to me.

It's also amazing that he wrote so many different kinds of songs about so many different things-- political songs, dust-bowl ballads, kids songs, down-and-out blues tunes, patriotic songs about the land that unite us, songs about dams, and boats, and flights, and love, and even crazy nonsensical tunes.

Even if I were to learn a new-to-me Woody song for each event, I still couldn't come close to learning before i died, all the songs he wrote in his lifetime. All the songs he wrote, and the songs he's still writing-- by virtue of the fact that people are still putting his words to music-- so there always seem to be new Woody Guthrie tunes.

Here's a lo-fi bedroom-recording of some words of Woody's that I put to music several years ago.  At a time when i was feeling very down and out~ i found that Woody had already been there and had charted that territory.... of Careless, Reckless Love.